Water temp: 56-59

Water Clarity: 6″-2′ 

Air Temp: 56-74 degrees 

Wind: Northwest 2-7 mph 

Tide: Outgoing

Moon: Full ?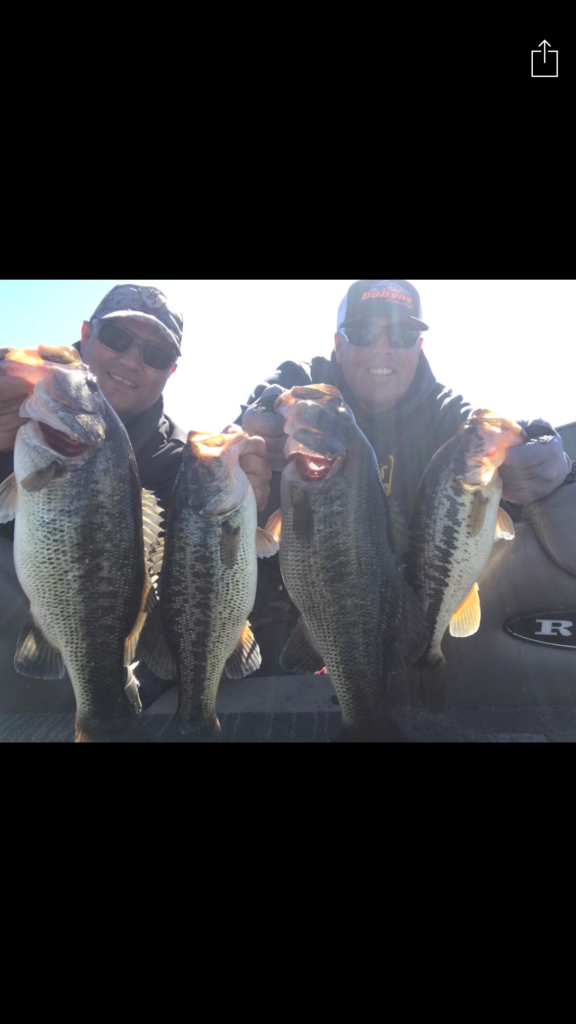 My brother Justin Ross and I, launched my boat at 0645 hours out of the Tiki Lagun Marina & Resort, located at 12988 W. Mcdonald  Road, Stockton, California, 95206. 
After launching we made our way out to the North side of Mildred Island. We started off throwing reaction baits such as the River2sea Ish Monroe Square Bill in delta craw color, and the River2sea Ish Monroe Bling Spinnerbait in the cold blooded color. We had zero bites on these baits in the first thirty minutes of fishing. I knew there were fish in the area because it's a well known spot by almost everyone who fishes the delta. With the water warming the way it has, the full moon, stable weather, and high tide, I couldn't quite wrap my head around why they wouldn't eat a moving bait. 
Without hesitation I knew exactly what needed to be done. The warm weather had me so excited for the pre spawn I forgot about winter transition. The bass needed to transition from their wintering holes up into the secondary breaks. From the secondary breaks they needed to feed on a forage that provides high calories, minerals, magnesium, and calcium which will sustain them through the spawning process. They needed to feed on crawfish which were becoming more active with the warm weather. I looked at my brother Justin and quickly put away all my rods but one. The only rod I left on the deck was my Dobyns 735 matched with my Abu Garcia Revo Rocket. This combination compliments my 1/2 ounce TNT Baits Dragon Fly Wada Jig extremely well.  This particular color is my go to when the bass are in their winter transitioning stages. 
We pulled up to a break on the north side of Mildred where the water was ripping out of the island. The rocks on the break were barely exposed and several scattered  tules were present. I pitched my jig into a hole between the tules and rock about the size of a basketball. I felt a small tick so I leaned in and set, boat flipping a three pounder onto the deck of the boat. I looked over at my brother Justin and I told him we're throwing jigs the rest of the day. He agreed and we continued down the bank catching several three to three and a half pounders. The tide was over half way out so we decided to run to Mandeville. We pulled up on the south side of Mandeville and it just looked perfect for a big girl to be present. It had a hard rock break scattered tules and a hard well defined grass line five feet off the bank. This area is what is referred to as a trough. I pitched my jig into the trough popped it twice and my line shot under the boat. I cranked on my Revo Rocket twice and leaned back with a cracking hook set. My rod doubled over and a nice chunk largemouth jumped right next to the boat. I flipping her up onto the deck of the boat and was greeted by a fist bump from my brother. That's a seven he stated and I obliged him as I slipped her carefully into the livewell. As we made our way down the bank we caught several more three pounders along with several fish in the two pound class. As the tide fell out even further we noticed the fish were reacting towards a more aggressive swimming action on our jigs. This was beneficial because it allowed us to cover more water quicker rather then a traditional slow retrieve. 
We came to an area where the trough was no deeper then two feet and there was lots of wood present. My brother flipped in between two limbs which were submerged and his line jumped approximately two feet. He leaned in and set the hook as he landed a nice largemouth which weighed five and a half pounds. We ran out of good looking water so we started up the motor and blasted back towards Mildred. We settled in an area we call three ponds which is located Northeast to Mildred. This area is basically tules with mixed in grass but the exterior has deep water around it which makes it ideal for winter transitioning bass. We fishing there for approximately twenty minutes when we doubled almost simultaneously on twin four pounders. With limited time before we had to leave, we took a quick photo and ended the day. 
If I had only one tip to give it would be this. Just because the water is warming rapidly and there is a few fish getting ready to bed, doesn't mean they all are. Keep an open mind while your out on the water and always stay optimistic. Hope this fishing report helps you catch more fish, and good  luck out there next time your on the water.
RB Bass Pro Staff Angler 
Christopher Anthony Evola