STOCKTON, Calif. — For the first two days of competition at the TroKar Duel in the Delta in Stockton, Ca., 93 Elite Series pros dealt with an ever-changing buffet of unsettled northern California weather. And as the 48 anglers who made the cut left Weber Point Park this morning for Day Three of the first Elite Series tournament of 2010, most of them were in a hurry to get to their prime water before the next significant meteorological factor came into play.
The wind will be howling today on parts of the California Delta.
Although it was clear, cold and still as the field blasted off at 6:30 a.m. PT, the National Weather Service is calling for sustained 10-mph winds out of the north/northwest by 11 a.m. rising to 18 to 21 mph by early afternoon, with gusts up to 30. With that forecast in mind, many of the big movers on Day Two are running immediately to their prime spots this morning to salvage as much of the best bite as they can.
"The spot I'm fishing, if the wind blows 10 to 20, it's toast," said Delta veteran Gary Klein, who rode his primary location — a narrow, shallow canal that he describes as "a ditch" — to 21 pounds, 10 ounces on Thursday to jump from 19th to 4th.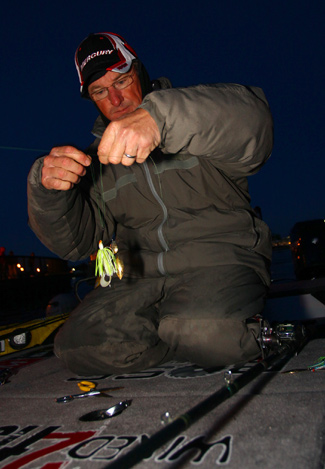 James OverstreetGary Klein spends a moment tying on some baits on the morning of the TroKar Duel in the Delta.
"I got onto a pod of fish yesterday that was unreal: they're all 4-pounders. I fished it a little on the first day and got 13, but I pulled off of 'em. I want back in there yesterday and ran this little ditch, and got a 4, a 5, another 4, and had 21 pounds, but I have to start there today before the wind gets bad because I won't be able to fish it for long."
The way the bite has shaped up for many of the top 48 this week, the morning scramble might extend throughout the entire day. Even when the rain busted loose and the Delta's bigger largemouth started to bite on Thursday, many of the field described the bite as a day-long grind, broken up by short flurries on the late-morning tide change. How the wind affects that day-long bite will be dependent upon the lay of the land in the areas the anglers are fishing.
"I'm fishing one of those big ol' lakes, so the wind is definitely going to have an influence on me," said Texas pro Todd Faircloth. "You get in those lakes like that and it's wide open to the wind. There's nothing to slow it down. My best spot is on a north bank, though, so it might not hit me as much there."
Day Two leader Stephen Browning, who has diligently worked a series of spots in the north Delta for two straight days, appears to be set up perfectly to handle a north/northwest wind because the main slough he's fishing runs east/west and is somewhat protected by a levee. Browning, who pulled a Day Two switch to a smaller bait that resulted in a 23-9 bag, plans to continue to ride that area as long as he can.
"If we get a lot of big wind, it'll affect me some, but I just have to stay focused all day," Browning said. "Right now I'm just fishing real calm, thinking that if I get five bites, two of them will be those big ones."
Spinnerbaits and Speed Traps
Bassmaster/ESPN photographer James Overstreet made the observation of the morning on a bait that many of the field seems to be favoring today: "Man, I haven't seen this many spinnerbaits tied on in a tournament in a long, long time. Everybody I look at out here has spinnerbait rods on their deck."
A ¼-ounce red- or orange-craw Speed Trap seems to be a popular bait, too, as James Niggemeyer rifled through Dean Rojas' tackle tray for a couple of the shallow-medium cranks.
Strategy time?
Day Three, tournament strategy now starts to come into play. While everybody was just concerned about making the cut on the first two days of competition, now the remaining 48 anglers begin to run "what if?" scenarios through their heads.
"You have to start thinking ahead now to Angler of the Year and the points," said Klein. "If I bumble around this morning and catch 13 pounds, Browning would have to stumble a little to make up any ground on him. I have to think a little about catching enough to make the cut and moving on to the final day. I think I'll be alright if I catch 12 to 15, but I have to keep that in mind."
Delta still not showing?
Even though Thursday's weigh-in was jolted by some big-fish electricity, at least one angler, northern California native Ish Monroe, thinks the Delta is still fishing slower than normal for early March.
"This is better (than Day One), but it's still not what it should be," Monroe said of the seven 20-pound bags that came across the stage on Thursday. "We should be seeing some of those 12- to 14-pounders here, and they're not showing up."
Overheard
"I don't have the fish in the area I'm fishing to win the tournament. So far I've got lucky and got one big bite a day, but do I leave that area and try to go chase a fool's gold kind of thing, or do I play it safe and salvage a tournament?" — Denny Brauer, on his strategy for the day
"I need to do something to find me some of those bigger bites. I had 17 pounds yesterday, but that's weak for this place. Heck, you can go fish on that wall right there and catch an 8-pounder." — Greg Hackney, pointing to the breakwall where the crowd stands to watch the launch
"It means that the air is going to be moving faster." — Alton Jones, on what the day's windy weather means for his spots
"I'd rather have some wind on a post-frontal day like this, with a high sun and no clouds, rather then having it slick and flat." — James Niggemeyer, on the day's forecast

Source ESPN 360