I had the honor of being invited to fish in the inaugural Ellie Invitational Kids Tournament on Lake Wappapello in South East Missouri.
RBBass made tackle packs to give to all the competitors, as well as tackle awards for Big Fish and Smallest fish.
The event started with a short meeting where each contestant was given a Ben Green Insurance Lucky Lanyard.
The adults helped each other launch boats and get kids settled safely on each boat, we had a short fishing day with a 12:00 Noon weigh-in.
I was fishing with 12 year old Trent Lacy, the son of BFL Angler Doug Lacy. Doug has taught young Trenton well, he can sling a baitcaster as good as most anglers, is laser focused on fishing, ties his own knots correctly, and knows how to properly work the baits he fished with. Trent and I left the launch at Holliday Landing and ran to a rock bluff where Trent started walking a spook like he was KVD. Within a few casts he had one of those bites everyone wants on topwater, where you see the big mouth open and start slurping behind the bait. Unfortunately the lunker missed the bait but we both had wide eyes for a moment. Trent wasn't to let down as he continued to fish hard all morning.
Most teams struggled to catch many fish on a hot August day but the kids made the best of it jumping in the lake and enjoying some snacks.
Back at Holliday Landing local tournament angler Garrett Rhodes served as weigh master for the kids, who enjoyed digging fish out of livewells and showing them off to each other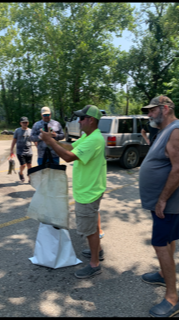 Winning the tournament and getting big fish of the event was Lilly Ladyman fishing with her father David
In second was Trent Lacy fishing with Jeff Jewell
Coming in third was Jane Ladyman who fished with her Grandpa Paul Enochs
After we weigh in all contestants, Parents, friends and spouses went to the hosts for the event Ellie and David Ladyman's for the awards ceremony prize giveaways and a BBQ and swim party. Every kid was given tackle packs that included baits, rod and reel combos and tackle boxes.
An all around fun event that all the kids seemed to really enjoy, the adults probably enjoyed it as much as the kids too. Some of the kids were already asking when the next one was.
Jeff Jewell
RBBass Angler