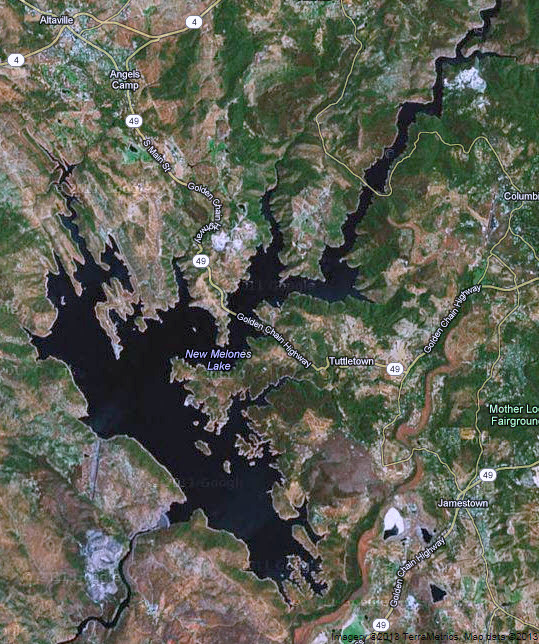 Date: 01/27/20
Location: New Melones
Air temperature: 37-60
Weather: Partly Cloudy/ Mostly Sunny
Water temperature: 52-55 Degrees
Wind: 0-6 mph
Water clarity: 10-18 feet
My buddy Sheldon and I headed out to New Melones for a fun outing. I had found good fish upriver the Monday prior so I knew I wanted to start there. We focused on creek channels but mostly at the mouths of the creeks and the surrounding points. We found fish in the backs of the feeder creeks but they weren't of much size. Sheldon stuck with a PBandJ colored Jig with matching twin tail trailer for most of the day switching to a swimbait in between with no takers on the swimbait. The Jig produced many quality fish for him in the 2-3lb range. Fish on the Jig were in the 12-20ft range.
I threw the Canopy Grenades Dart presentation with a 6inch purple worm most of the day. My biggest Spotted Bass hit first thing in the morning at just a hair over 3lbs and in the same depth range we found the Jig fish. I switched between other natural and shad colored worms and got no takers. They only seemed to hone in on that purple worm. I also switched back and forth between the Dart and swimbaits, Underspins and Dropshot with very little success. I did find one really big bait ball at 45ft and dropped the drop shot down and hooked up almost immediately on a fat 2.5lb spot but it didn't make it into the boat. Most of the day was fun with lots of bites and fish in the 2-3lb range were easy to find.
As the sun started to set we found that a lot more bass moved shallow and our bites were getting more predictable. I missed several good hits with the dart only to reel back in a dart with no worm. I had one more spot I had to hit since I started to notice we got more bites the closer we got to the main channel. First cast in just before dark with the Dart and my rod loaded up with a good bite. I set the hook and the fish flew out of the water. The fish was only in 5ft of water when it bit and took off. Sheldon and I had our adrenaline going with this one and with my Denali Rods Shakey Head Spinning Rod and 8lb Berkley 100% Flouro line it was a 10-15 minute fight to remember. When we got the giant in the boat we were practically speechless. She weighed 11.39 on the scale and was an absolute giant!
Another thing to note was banks and points with sparse rock seemed to get more bites. Red Clay also. If you hone in on areas like these you should find success if you head to New Melones in the near future. Don't be afraid to chuck around a swimbait or River2sea S-waver for a while either if there is wind and cloud cover. You could be rewarded with a big catch! But as we found out, giants fall for the simplest baits sometimes.
Good luck out there!