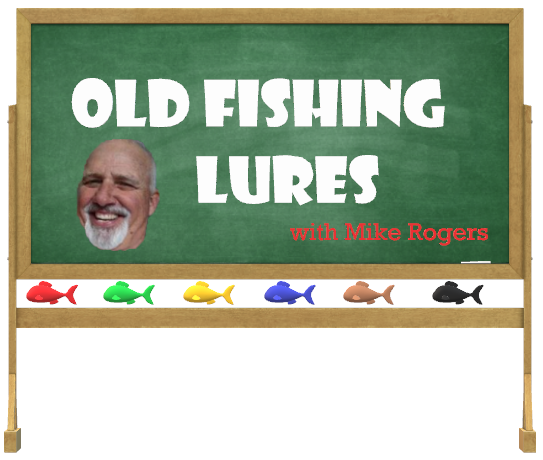 March 13, 2020
Content is; Jim Pfeffer Lures, Monster Jet Lure and Moore's Yellow Plug
As we continue through grandpas tackle boxes, this week, search it carefully for prizes like the following old lures, as they be a mini treasure trove.
Back in the early 1940's and 1950's in Orlando, Florida a guy named Jim Pfeffer was known for his Orlando Shiners, as you see here. These are hand painted wooden lures and they came in a paper envelope, with Jim Pfeffer Orlando Shiner on them. Every now and then you might find one, with notations in pencil written on them, by Jim himself. The rarest of all of them is the Pfeffer Sunfish, though they came in several colors.  My apologies for the photo's, it's hard to get a good clear ones.
If I dig deeper into the tackle box and if I am lucky, I might find a Monster Jet Lure, from the late 1940's. This product actually looks like one of the plug lures we use today. It's a product from Culver Tackle Manufacture, out of Pacific Grove, California, down by Monterey! W.W. Culver was the Owner/inventor of this oddly shaped lure, but each one came with a glass bottle of "Natural Fish Oil" to guarantee the lure will catch fish.
The third lure here is the Moore's Yellow Plug, as you can see it's appropriately named. It was made back in 1924 by H.C. Moore of Ypsilanti, Michigan. This lure actually has a solid metal head to it. Moore's claim, on the enclosed flyer, was that his lure will carry 20-30 feet further than any bait on the market, due to its weight. It resembles a lot of pencil poppers used today. The box it came in actually has hinges on it.
Well that's it for this week. Keep checking those tackle boxes for the old lure, it makes for a great hobby and might even earn you some cash. If you think you found one, hit Google up for someone that buys these, there are many that do. Stay tuned for more next week. Remember to take a kid fishing!
RB Angler
Mike Rogers