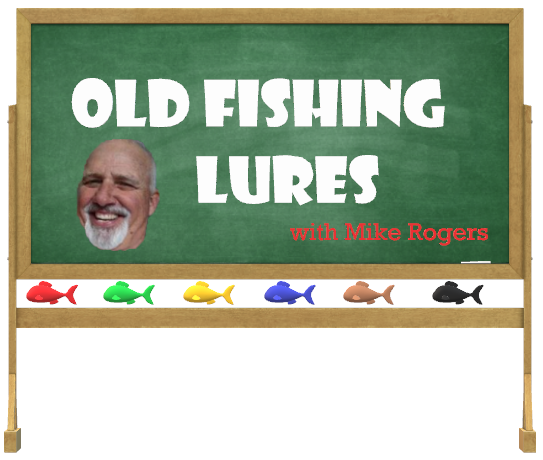 My bad, I had to go fishing rather than just write articles. Had a great time on Clearlake a few weeks ago, and might have wished I had some of these old lures. Guess what I found? Yup and Old Orlando Shiner, which is one of the most common from the Robinson Bait Company, which sold these back in the 1930's and 1940's, as a top water plug. They were hitting frogs at Clearlake, I bet they would have smashed these. The spotted painted is pretty typical of "Florida style" lures that came out of Orlando back then. You can spot these lures as the come in a well-designed and attractive box.
The next lure I found was the Rosenberry Shurlur, from Garrett, Indiana.  The C.E.Z. Shurlur baits were made in the 1920's and 1930's, by the Rosenberry Family of Garrett Manufacturing in Indiana. These lures are rare, so if you find one, call me ….Please! This is a sided hook and tail hook lure and comes with milky glass eyes. Rosenberry Shurlur also made an injured minnow type of lure bait. This lure was yellow with some red spots on it, and came with a propeller on the front, kind of like a spy bait. Garrett Manufacturing and Shurlur are the same firm, in case you ae confused.
The third lure I found was another one made by Rosenberry Baits, of Garrett, Indiana. This bait came in a box that had in it "patent applied for" With the Garrett Bait Company name on it. Both the Rosenberry Shurlur Baits and the Garett Bait Company were thought at the time to be related to the Creek Chub! You can tell the Rosenberry Lures, because the almost always have a tiny cup hardware on the hook hangers. The pink cello in this box is original to this box.
That's it for today, stay tuned for more old lures, and remember to take a kid fishing.
RB Bass Angler
Mike Rogers