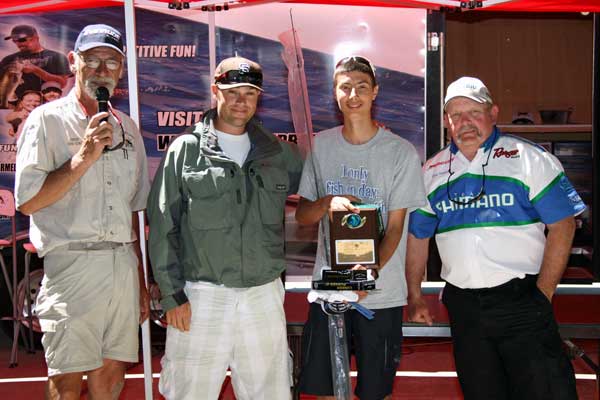 2011 Teen Champion Joel Barrnett and Pro Brandon Burruss
Sponsors
2011 Results
Liability and Consent Form
Boater Registration
Approved Teen Participants
The purpose of the Pro-Teen event is to introduce teenage kids to alternative activities, in our particular case it is tournament bass fishing. It is a chance for a kid, who otherwise does not have the opportunity, to enter and participate in a "pro style" tournament event. Potential Boaters, no fee required, take link above to sign up.
$35 Entry Fee which includes:
Tackle pack of great value
Commemorative participation plaque for each teen
Snack pack & bottled water during the tournament
Free Raffle Tickets
BBQ after the tournament including family & friends
One great day of fishing!!
Tournament will be held at Russo's Marina
Pre check-in on July 14th, between 4:00pm-6:00pm for both teens and boaters.
Check-in and partner pairing July 15th from 4:30am to 5:30am.
Blast off at 6:00 a.m. and Weigh-in begins at 12:30 p.m.
Activities throughout the event include:
Free BBQ, 12th Annual Nutcase Chili King Cook Off
Awards ceremony for all teens participating
Huge raffle of donated products
Sign up details:
Eligibility will be those teens, ages 13-19, who are not currently fishing as a Pro or Am in an organized "Pro-Am" tournament Circuit.
Deadline to sign up is July 6, 2012. Entries must be received by this date.
We reserve the right to exclude questionable participants & make changes to rules based on the discretion of the Board.
Although we have set the maximum entry to a 60 contestant limit, we will continue to add confirmed teens as we are assured of boaters to cover the additional teens. These additional teens will be placed on a first come, first served standy by list.