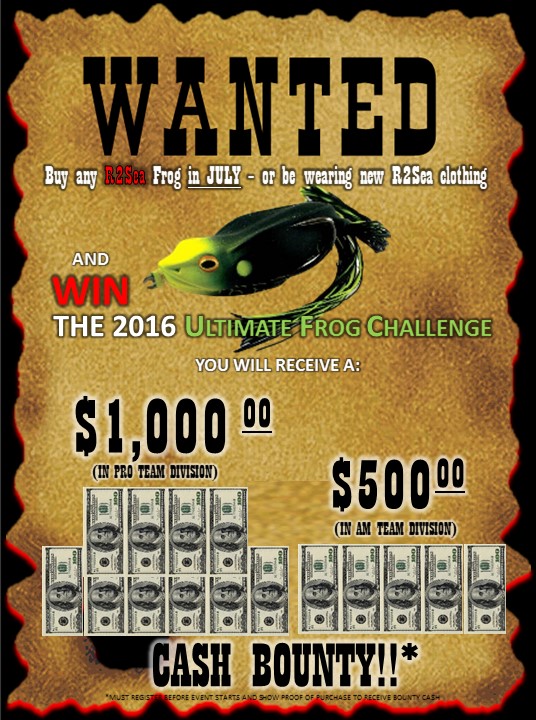 The countdown to the 2016 Ultimate Frog Challenge has begun and R2Sea – winner of last year's "battle of the brands" stands ready to put tons of extra cash in your pocket for winning this year's event!
In less than 24 days the excitment and drama will begin, and the stakes just got higher as River2Sea, purveyors of the finest top water frog baits available is offering a $1,000 CASH bounty for the winning Pro Division team and $500 CASH bounty to the winning Am Division team that shows proof of purchase of at least one River2Sea frog (purchased during the month of July) or is wearing any of the new R2Sea clothing during the weigh-in! 
This exciting and unique event provides anglers with the opportunity to use ANY BRAND of top water frog they choose, and River2Sea frogs certainly rank as one of the baits that has a better-than-average chance of taking home the award for "Top Frog" of the competition.
In addition..the 2016 Ultimate Frog Challenge will provide the top 25 teams (from both divisions) with the opportunity to qualify for the 2017 Coors Light Open Team championship and the opportunity to win the keys to a new vehicle!
So go get you a River2Sea bait, put on a shirt or hat, and let's get ready to rumble…
And get paid!
Angler's Press Outdoors
 www.anglerspress.com
All Frogs Matter!