Delta Report April 1st
 By Mark Lassagne
 After a couple weeks of fishing New Melones and Oroville I got back on the Delta and found fishing to be good (not great) with good quality.
 Day one – Friday March 31st Launched out of River's End and fished way south. The water had cooled off to 55 deg and wind was blowing 30 plus all day making it hard to present anything slow.
 We first ran to a dead-end slough where we got a few on Chartreuse Revenge Baits​ spinnerbaits with gold blades including a 5+. The only way we could fish was to put the power poles in the mud and drag along – but it worked. I think if we could have flipped or tossed a Senko we would have got some more fish.
 Leaving the slough, we searched for spawning areas, flats with good bottom composition and spares tules in protected areas. Then using the power poles we flipped to suspected bedding areas. Though I wasn't fishing the Delta weeks prior I know the water warmed up into the 60's meaning the fish should be spawning.
 First spot we got three to about 3lbs flipping Beavers and Flappin hogs with a ¾ oz. weight (the big weight because the wind was blowing so hard) Again if we could have slowed down I think we would have gotten more fish. We continued this pattern all day in the same type areas landing another eight bass to 7.5lbs.
 The tide didn't matter as long as you had water over the bedding areas. 
 That day ended with about a dozen bass and a limit a little over 22lbs but…we missed and lost another 10 fish due to the conditions.
 Day two – Saturday April 1st Launching from Orowood and fishing around there. The water was 56 degrees and there was no wind – a big relief from the previous day. Assuming the bite would be different as now it's a post front day.
 Beginning close by tossing a R2S Biggie crank in red and black we hooked up with a 1.5lb bass as soon as we hit a spare tule area. Then we starting flippin again like the previous day and got bit right away but missed the fish, proceeding down the bank we got six bites and only landing one fish about 2lbs. Missing fish is common for bed fish and post front so adding both in together it was expected.
 Moving from there to a big flat we cranked for 30 minutes with nothing, the flat changed from last year – the weeds were gone and so were the bass. Moving from there to a sparse tule point I hooked a monster on the crank but as it came up the crank came out – looking at it as it came up I could see it was way over 5 but it came off so we'll never know.
 Next in to Woodward fishing both sides for ½ mile, no bites – seems this slough is just not good this year.
 We then bounced around Old River to Holland stopping on sparse tule flats looking for spawners. Doing this resulted in eight bass with one about 4lbs on Senko's and Flippin.
 Now the tide is low and we're searching for places where the water is still a foot or two over the tules – its more difficult but you can find these spots with a little effort. From noon to 3PM we fished islands with tule flats landing a 5+ punching a Flaping Hog and a 6+ on Revenge Vibrator with a 5.5 swimming Senko.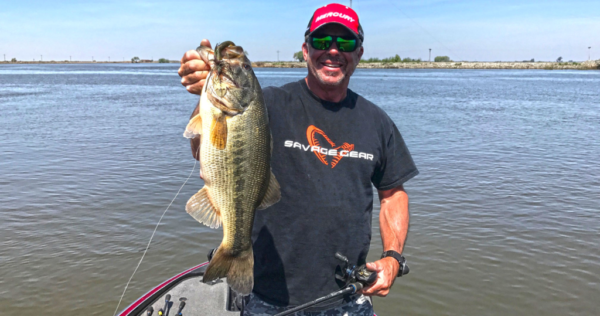 All in all, similar to the prior day we landed about a dozen bass with a limit going 21lbs not counting the big one we lost.
 Even with the cooler water the bass are on beds and more moving up as it warms.
 Follow Mark Lassagne on FaceBook httpss://www.facebook.com/marklassagnefishing
For guide trips on the California Delta check out www.marklassagne.com
 Equipment Used
 Okuma TCS 7.11 Matt Daddy Rod – Punching
Okuma TCS 7.3 Heavy – Revenge Vibrator
Okuma EVX 7.2 Medium Spinning Rod – Senko
Okuma EVX 7.11 Heavy – Flippin
Okuma Helios 7.3 to 1 Punching and Vibrator
Okuma Cerros 7.3 to 1 Flippin
Okuma Inspira spinning reel
Revenge Vibrator 1/2oz Sprayed Grass
Yamamoto 5.5 Swimming Senko green pumpkin
 Yamamoto 5" Senko green pumpkin / watermelon laminate
 Reaction Innovation Beaver in Delicious
 Yamamoto Flappin Hog green pumpkin red
 Revenge ½ oz spinnerbait Chartreuse with gold / gold willow blades