Date: 11/26/20
Weather: 34-56 degrees
Wind: 10-20mph North
Water Temp: 57-58
Myself and tournament partner Chris Perez made a quick trip out to Folsom Lake the morning of Thanksgiving.  We arrived at the boat ramp at approximately 6:45 to a brisk 34 degree morning.  The winds we moderate and only blowing about 7mph.  We ran over to a main lake point that set right in the face of the wind.  We were hoping to use the wind and lowlight to our advantage.  We both picked up our umbrella rigs. I chose my go to rig, the Picasso Lures Bait Ball.  We made quite a few casts and marked a ton of fish on the depth finder but couldn't get any to commit.  After a short while we began throwing finesse baits to the fish we saw on the graph.  We quickly picked up one short fish but as the winds began to increase we decided to check some other areas. 
Once arriving at our second location I continued to throw my Picasso Lures Umbrella rig and Chris picked up his football jig.  We worked from the lake side of the point around and into the cove.  Once around the point we marked a few fish in 25 to 30 ft of water.  I picked up my drop shot and began to drag it behind the boat while Chris threw the jig in front of the boat.  A moment later he sets into a 2.25-2.5lb spotted bass.  A few seconds later I get bit behind the boat.  My G-Finesse Drop Shot hook buried in his lip.  We continue to fish into the back of the cove with out any luck.
We decided to move to a long point that tapers out in to the river channel.  After about 10 minutes my drop shot gets heavy and I load into another solid spotted bass.  We get her in the boat and she is about 2lbs.  We moved to the other side of the point and did not have any other bites. 
We bounced to another point around the corner and found a few fish hugging the bottom.  We attempted to drop on them but they did not want any part of what we were offering.  As the wind picked up even more I changed from the drop shot to a Neko rig because I could feel the bait a little better and I have a ton of confidence in it since I spent the last few weeks testing out the G-Finesse Stinger for Gamakatsu. 
  We moved to another point just of the river channel without any luck.  This lead us to want to check our main body point that we started on in the morning.  We got near the area to find 4+ foot waves running the entirety of the main body.  We stopped briefly to fish the area but shortly called it quits due to the wind and waves.  We ran back to the general area where we had caught a few fish a moment earlier.  Chris throwing his Jig and I throwing the Umbrella rig and Neko rig.  We fished around the point and Chris again leans back and loads up on another fish.  We get it to the boat, and it is a 2lb largemouth.  We continued throughout this area but could not produce any other bites. 
With Thanksgiving dinners approaching we got off the water and headed home.  It was a very tough day but I am glad we stuck it out.  We learned a lot.  Not just about Folsom Lake but reservoirs in general.  I will list the products used below.  Please feel free to reach out to me with any questions regarding our day and Folsom Lake.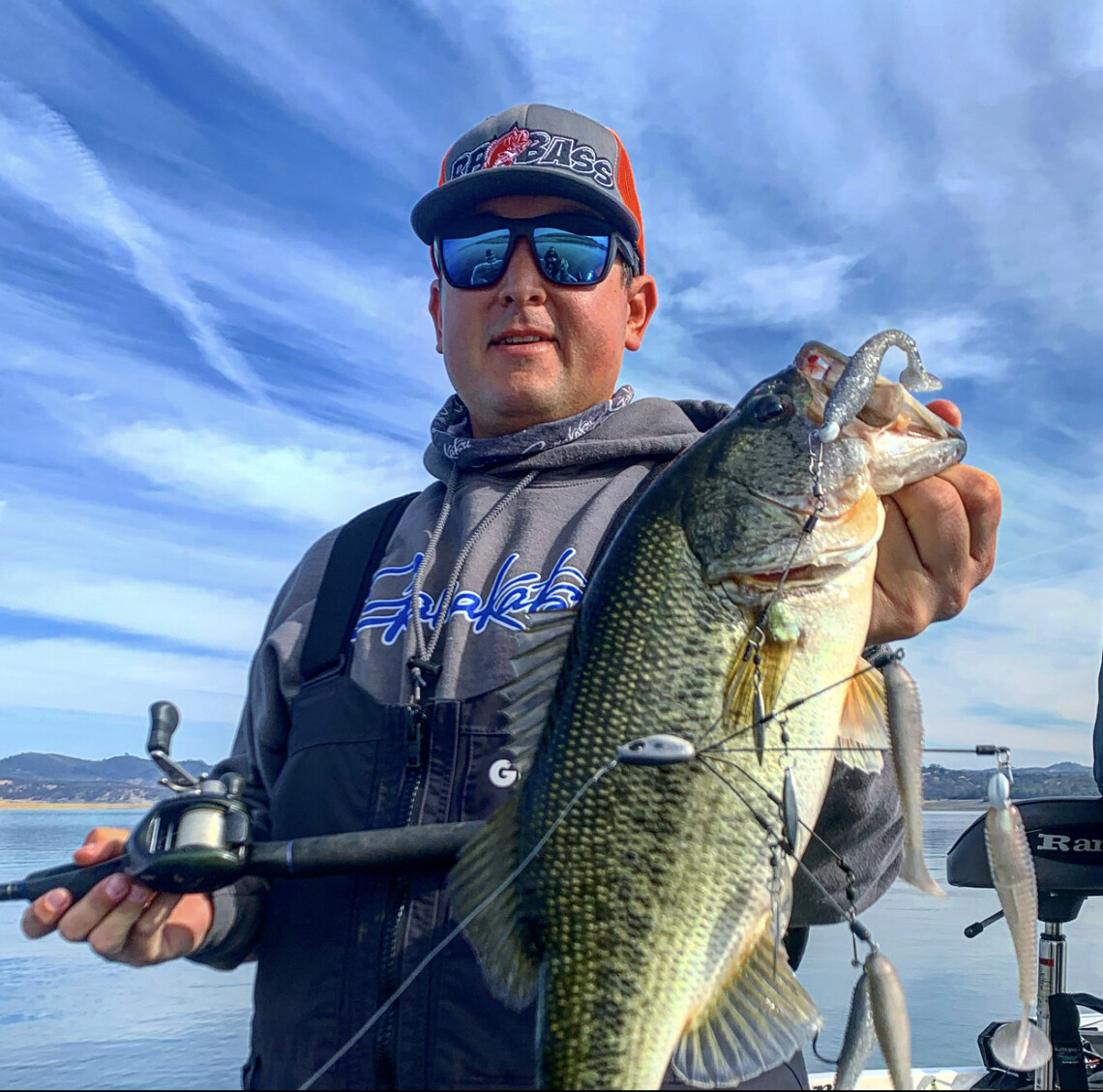 Ryan Hall
@ryanhallfishing
Products
Picasso Lures Umbrella Rig: https://www.picassooutdoors.com/Articles.asp?ID=272
Picasso Lures Smartmouth Jighead:  https://www.picassooutdoors.com/product_p/psmjh.htm
Picasso Lures Football Head Jig:    https://www.picassooutdoors.com/Picasso_Fantasy_Football_Undressed_Jig_p/pffju.htm
Gamakatsu G-Finesse Stinger Neko Hook:  https://www.outdoorproshop.com/Gamakatsu-Hooks-G-Finesse-Weedless-Stinger-p/gamakatsu-stinger-wdls.htm
Gamakatsu G-Finesse Aaron Martens Drop Shot Hook: https://www.outdoorproshop.com/Gamakatsu-AM-G-Finesse-Drop-Shot-Hook-p/gamakatsu-amgfinds.htm
Dobyns Rods:
Umbrella Rig:
Champion XP 794sb – https://www.outdoorproshop.com/Dobyns-Rods-Champion-XP-Swimbait-p/dobyns-champxpswimbait.htm
Fury 795sb –  https://www.outdoorproshop.com/Dobyns-Rods-Fury-p/dobyns-fury.htm
Drop Shot:  Sierra 702sf – https://dobynsrods.com/the-dobyns-sierra-series/
Neko Rig: Sierra 703sf – https://dobynsrods.com/the-dobyns-sierra-series/
Jig Rod: Champion XP 744c: https://www.outdoorproshop.com/Dobyns-Rods-Champion-XP-Casting-p/dobyns-champxpcst.htm
X-Zone Lures True Center Stick:   https://www.xzonelures.com/site/shop/detail/pro-series-true-center-stick-fishing-lures
Humminbird Helix  Depth Finder:  https://humminbird.johnsonoutdoors.com/fish-finders/helix?_gl=1*1hkeo0a*_ga*MTc0MTQ1OTMzOS4xNTkyODc4MTY3*_ga_JE4T2LF5XP*MTYwNjg2ODUzMS4yLjAuMTYwNjg2ODUzMS42MA..&_ga=2.150702582.1748984521.1606852609-1741459339.1592878167&_gac=1.128551678.1606852609.CjwKCAiA8Jf-BRB-EiwAWDtEGom0HWgv5eOO49kmkbleeTStt41FhHUAAxoBv1NQ0VZxAOmwipB_shoC5eIQAvD_BwE
Lakemaster Mapping Card:  https://humminbird.johnsonoutdoors.com/mapping/lakemaster-western-states-v3
Roboworm:  https://www.outdoorproshop.com/Roboworm-Straight-Tail-Worm-45inch-p/robowormstraighttail-45in.htm
Keitech Swimbait:   https://www.outdoorproshop.com/Keitech-Swing-Impact-Fat-38-p/keitech-swing-impact-fat3.htm
Gary Yamamoto Hula Grub: https://www.outdoorproshop.com/Yamamoto-Hula-Grub-5in-p/yamamoto-hulagrub.htm