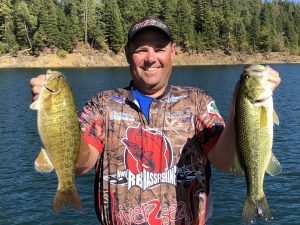 My name is James "Big Ed" Everhart, I'm 48 years old and I have been tournament angling since 1999. This is a profile of how I became a member of RB Bass and what I feel I have gained from being apart of this team.  
I received two phone calls in March of 2012, the first was from Bob Tyler asking if I would be interested in being apart of this new program he was involved in. We talked about it for around a half hour, after our conversation I was on the fence, not sure the difference between what I had been doing and the RB Bass program. Bob told me to wait for a call from Ron Howe, three hours later I received the call from Ron. We talked for a long time and after hearing Ron's pitch I agreed to join but I was still apprehensive. Now I'm very happy with my decision. 
I had already been giving seminars, Teaching classes, I had sponsors large and small, I had help run programs, shot commercials, had a web site, facebook, instagram and filmed videos. So, what could I get from RB Bass? It actually took me a bit of time to find that answer. At first I thought It would be great to have the discounted product and it is for sure, I've worked hard for the brand and have received some really nice perks but what I have come away with as my number one perk has been a team. 
Bass fishing is a sport that can be very secretive, very isolated it can be a tough journey on your own. I think that is one of the best parts "The Hard". I've learned over time that it's not the only way to go about progressing in this sport though. RB Bass has given me an opportunity to fish with many different anglers, all of them with different skill sets. Guys like Mike Cole, Randy Walker, Ron Howe, Michael Coleman, Rob Clarke, Bob Tyler, Charlie King and my new partner Charles Cornelison. I've learned from each one and hope I've passed on some knowledge as well. The team mentality with this group is very strong, I really enjoy being around this group of guys sharing stories, techniques and just having a great time. 
In the future I hope to fish with a bunch more guys and see their approaches to different waters until then I'm having fun and trying to keep moving forward in this sport.