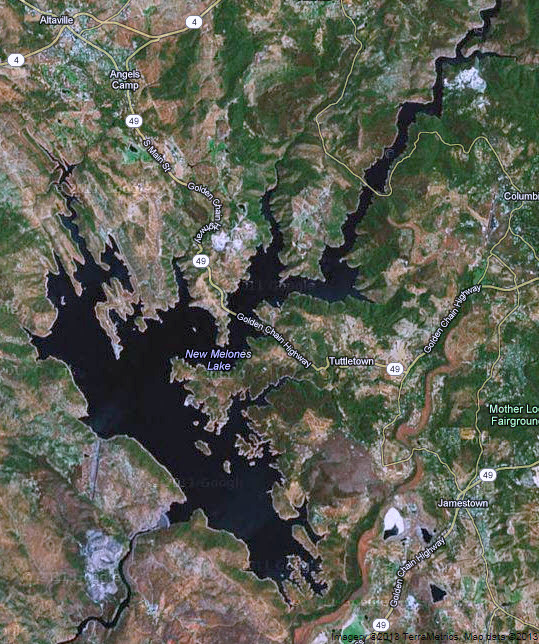 Water temp 52 to 54
Air temp 32
Wind 2 mph
Weather pre front ?
Water clarity 4ft
Location new Melones
                With freezing temperatures  what better place to be than on Lake New Melones with my good friend Josh Parris. With the current conditions and Josh's knowledge of this great fishery we started on off shore islands. I started with a 1/2 slickhead jig in pb&j trailered with a Bass Assassin pure craw in watermelon red flk and Josh with a Optimum swimbait. We positioned our self on the top of the island and made long casts and we were dragging our baits uphill and in no time I had our first fish on the jig catching a few more in the 2 pound range and Josh catching one in the 4 pound range we decided to make a move to a steep bluff on the main lake.
 Josh was still fishing the big swimbait and I picked up the A-rig and started to really put a hurting on em!!!! I started to put together a solid pattern with the G-rig letting it sink to a 9 count and slow retrieve was the ticket on the bluffs. We also found a shallow largemouth bite on long sloping points as the day went on that bite seem to get better dead sticking the fat job worm and slow rolling the G-rig with Bass Assasin swimbaits at about 2 o'clock we had 15 pounds or so for our best five so josh decided to go back to were we started on the submerged islands so I picked back up the jig and make a few casts and feel tick tick and  KAKABOOOOOOOM a true giant largemouth comes to the surface josh nets her she topped the scales at 9.7 pounds!
We started to notice big bass chasing trout all around us josh quickly picks up the new Balam 300 swim bait by Optimum baits and boom another big fish hammers it this fish in the 7 pound range. With all the activity I pick up the G-rig and a 4 pound spot just crushes it putting our total bag just under 30 pounds. All in all it was a great day. Remember it's winter slow down and fish adjacent to deep water access bring your baits uphill, and good luck !!!!