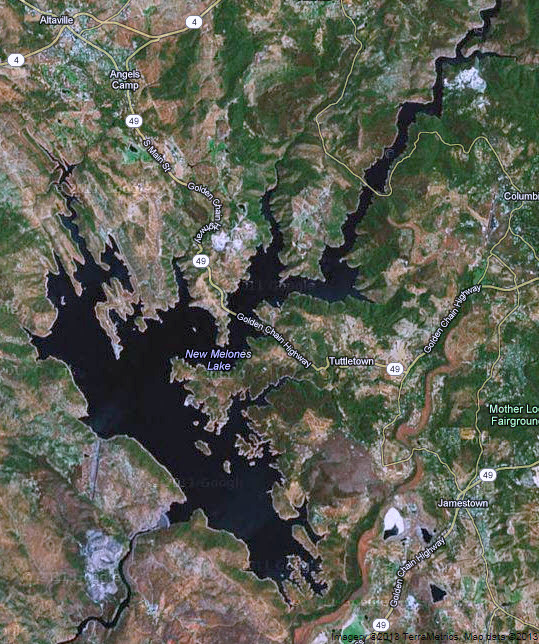 Water Color Clear and slightly stained
The day started off cold and partly cloudy with a Amazing Sunrise. I started the day off throwing a Big Glide baits on main lake points, but had no luck. 
I then drove up river past the HWY 49 bridge and headed to the back of a Gut, I went about 3/4 of the way in and started targeting points, with Swimbaits, Glidebaits and the A-rig, but only had a few short bites 
on the A-rig. Since it was just a fun day with no association to any Tournaments,  I started throwing 6-7″ plastic worms on a Frenzy Nail Shakey head. Right away I started getting bites , but they were pulling off . So i switched to a 4 inch worm, and then I started catching fish in 25-50 ft deep. I fished shallow but did not get any bites. I tried the Float N Fly near steep walls in shaded areas, but no bites. I then switched to a Neko rigged worm. I did get a few bites but they were not reacting as well to this as they were to the Frenzy Nail. So i started to key in on the action and depth fish wanted to get bites. I stayed in this gut for 3.5 hours catching fish up to 3 lbs. I left the area and tried a few new spots , but had zero bites. I moved further up the river looking for shaded Canyon walls. This was the right move as i really started to get into them. The fish were on steep walls getting my bait down into 30-50 ft quickly  was the key to catching fish. I would not cast to the bank, but rather cast to 25 ft deep in my mind, let the bait sit for a second then shake it and crawl it as it glided down the ledge then shale it again, pause and check for a bite. The fish would just pick it up and slowly move to the boat. It was a pressure bite. I caught a mix of Spotted Bass and Large Mouth Bass. I then moved to the main body with about a hour left in my day. I looked for a flat point and put the boat in 30 ft and started moving the boat around looking for the fish. They were in 50 ft mostly, so I started dragging a Jig and it didn't take Long ! Tap Tap! A nice Spotted Bass ate my jig. I then caught several more fish on the Jig and again on the Shakey head from 25-50 ft. All in all it was a great day with over 35-40 fish caught on a solo mission. I didn't catch any big ones but I had a blast. Purple worms and Brown jigs were the deal on this day!