Early Sunrise till Zero Dark Thirty
Weather: Freezing, warm, hot then cold again
It's RB Bass Christmas Tournament Weekend and you found Chris Perez and me caravanning up to Collins Lake, with boats in tow. Ron Howe did the usual job of putting this all together and I was sure by the time we got there we would find him on the Lake pre-fishing for Saturday and Sunday. You didn't become a Tournament Champion and AOY by not putting in the time. As you can see, in the first pick, Chris and I got there and begin to set up the Bunker outside the cabins, as this is always the gathering, eating and some drinking designated area. It was a little smaller this year as we only used the one EZ up!
RB Legend Bob Tyler showed up just as we were putting on the finishing touches and directed him away from our cabin to the other cabin……Because he SNORES! Video following.
We could have put the boats in and went fishing, as there as time left in the afternoon but elected to drive to the shoreline and harass any RB angler we could that came by. That victim was Ron Howe. We also saw Randy Walker on the water, and Mike Tremont. Dang these boys are serious! After helping the boys get off water, we all went back to the Bunker for food and fun! 
Mike Tremont stayed out on the water longer than anybody else on Friday and when Randy and Chris drove down to the ramp to check on him, they found him in the dirt area next to the ramp hitting golf balls… a "silky smooth" swing.. haha
Dinner time saw Ron Howe at his usual spot behind the BBQ doing up Pork Loin and Tri Tip,(this man could open a restaurant)  while I manned the deep fryer for Chicken Wings, marinated in hot sauce, along with deep fried battered asparagus. I must admit that the first batch stayed in a little too long, someone must have been drinking, but the next two batches were great. There was more food there than I could keep track of and I'm not even sure I had tasted everything or even know what others brought, but it was an awesome evening set by the fire, food, drinks and brothers.
Saturday morning came way too early for this old guy, but all were up and grabbing much needed coffee. In a gaggle of rigs, gear and warm clothing we ascended on the ramp like vultures. The signal was given and we were off to the races. Bob Tyler and I were partners and we had no idea where to go, so we ran to the cove were the camp was, only to find Chris Perez and his partner Ryan Hall just ahead of us. Seeing how this tournament has NO rules, we powered past them and cut them off with a finger wave. We started fishing and had great hopes as I got bit and had a good one on….for like ten feet before he came unbuttoned. Exasperated, ticked off, all the emotions. Back to fishing. Another bite, just one tick….and nothing. The whole day was trolling motor and throwing everything we could think of. They were glued to the bottom so all that gear came out. The stringers we kept seeing were trout, but some bass below them. We threw a spinnerbait when the breeze picked up, then Ned rig, Drop shots, single Keitech, Rip Bait, a Crankbait, a small underspin, a Senko and Ocho, Shakeyhead, a Dart, even Bob's special green looking something or other lol and nothing. The whole day went this way. Finesse, Finesse, Finesse!
Perplexed we met up with several of our anglers only to find they were having the same problem. The bite was TOUGH, but we had to grind it out. At the end of Day 1, Bob never had one bite all day, I had 2 and missed them both, as they short stroked everything. Bob and I got off the water early on the pretext of getting dinner prepped when it was me needing a drink lol. The boys finally showed up, to find out that Ron Howe and partner Arlando Abella won day one with 11.3 pounds. That was huge considering.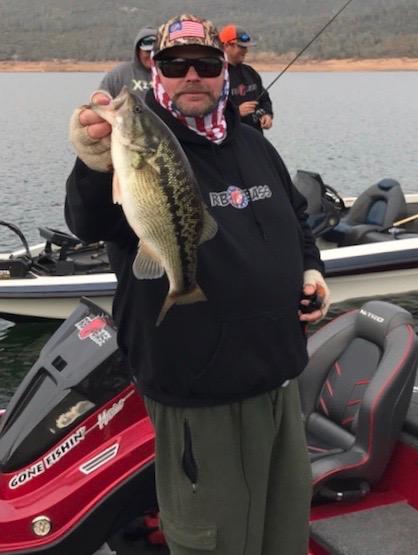 During the tournament RB angler James Everheart and Greg Bunting made an appearance and they found the same fishing as we did. This was like James's home lake as he lives nearby and when he says it's tough, it's tough! Rob Clarke also showed up for the fishing and the evening festivities. 
Now back at the Bunker, fish stories and the grind was the talk of the evening.
Sitting by the fire with drink in hand listening to all that went on throughout our day, to me, is the best of the event, but now it's time to cook again, our boys are hungry! Tonight is more of the same with Chicken Ryan brought, more of Ron's BBQ and I deep fried Pheasant and Chukar, along with veggies like cauliflower and asparagus and Broccoli. My lessoned learned was not to start drinking at 2pm and then deep fry, lol, that first batch is always a little too done. Again all were stuffed by the time the fire started to grow, because two of our crew likes big fires, and Ron Howe is one, I can't name the other but I can tell you he's old…lol! Being last night all the remaining wood goes on the fire, and a large Pallet that was found, so that went on it too. Then another, unnamed angler threw on an empty bag of Kingsford Charcoal much to Randy Walkers concern. All in all, the evening was warm, relaxing and rack time came too early, but Day 2 starts shortly.
Chris Perez also presented Bob Tyler with a signature series net signed by fellow RB anglers… Bob had a little frying pan net and lives on Clear Lake, which just wont work.. plus he always opens up his house on the lake to his RB brothers.  
Day 2 didn't start early as we had clean up to do first and then pack our stuff. Once we left the place clean as we found it, we headed to the ramp. We played musical trucks and boats until all were launched. We lost Everheart and Abella, they could only stay for Day 1, as well as Mike Tremont (medical) for the day 2 event. We blasted off and Bob and I sought other water. The lake was way down and you had to show some caution and stick to the main channel for running, anything out of the channel I would lay down and cruise in. There were islands and rocks I've never seen before.
Day 2 started better, at least for me, Bob still struggled. I caught 3 pounder on third cast. I wasn't doing anything different, still did the slow drag with a Canopy Grenade Dart and worm, the point we picked just had fish on it. I don't know which is worst, seeing all the fish down there and not catching them, or not seeing them and not catching them, but it was frustrating. Now that we have one in the boat our spirits were raised. In the next 20 minutes I had 4 more bites, 2 of which were big fish but they spit it after about ten feet of fighting. Frustration again. They weren't take the hook, just up to it. One time I pull up only half my worm, another short pick up. At least I'm getting bit, which was huge compared to day 1. We stayed in that area for another hour, with only a few short bites, me on a drop shot and Bob on what looked like a green pumpkin Ned Rig, but we just called it Bob's Special Bass Candy lol. I even downsized my worm, but they still short stroked it. Poor Bob still hasn't got bit yet!
Now it's later in the morning and I decide to make a move and go back to the area we fish the day before, as others took fish off of it. We pulled in and Chris Perez and Ryan Hall were there as well.
To find fish I put the trolling motor down and got on main engine and just tooled around slow until I found humps with fish on it, which in this case was farther offshore than what we did the previous day. When we found the spot, I simply hit the spot lock and got up to fish. I told Bob to cast way over the hump and draw the bait through it. This time he had me put on the set up I was using, being the Dart and worm. Second cast out and Bob's rod bend like he hooked a submarine. It was fun to see this huge tug fight going on, with net in hand mind you. He gets in within 20 feet of the boat and I see a huge flash…OMG it's a giant! I net the fish and it's the biggest fish I have seen come out of Collins, though I know here are bigger fish in there. Heck I believe James Everheart's PB there is like 13 lbs. This was not that big but weighed in at 5.70.
After a day and a half of grinding pain, Bob is all smiles now and is ready to get after them again.  We fish on with nothing going on, and we had about an hour and a half before weigh-in, so we decided to go back to the wall that I got bit on a lot. In the meantime Bob's back is hurting, as his surgery wasn't that long ago, so he decided to lay down on the back deck across the live wells. I told him to stay there and I'll just cruise over to the spot a half mile away so he could sleep.
I get to the spot and Ron Howe is near it but offshore more than I was, so I snuck in on him (no rules remember). Second cast and the line gets heavy, not a tick, no bite, just heavy. I reel it up fast and set the hook and I ask for the net…look back and Bob is still asleep. He opens his eyes and sees me with taught line and reaching for the net. He calmly yawns and sleeping beauty hands me the net to net my own fish. Laughter broke the serenity of the lake. It wasn't big but at 2.33 lbs I'll take it.
So the deal here is that no one knows about Bob's tank in the live well except Chris and Ryan, and we keep it that way until we weigh our fish. Randy Walker bless his heart fished alone but bagged up a few fish and one was 3.01 needing it for Big Fish money, and maybe the tournament win.
We all patted him on the back with what a great fish it was, and he was all smiles until I pulled out my 3 pounder and then the 2.33, an then to put the final nail in the coffin, Bob pulls out his 5.70!!!! What fun! Randy pointed his finger and called us sandbaggers and More! So we end up winning Day 2 and Big Fish Money.
I can't thank Ron Howe and my RB Bass Brothers enough for these get togethers. They are a blast with fun anglers, great drinks and food, Camp fires and competition. As we are spread out, with different lifestyles, jobs and families we don't all get to see each other and it is always fun to meet another RB Angler you haven't met before. As it was for me in meeting Arlando Abella and Greg Bunting, both Great guys, crappy anglers, but great guys… lol!
Chris Perez ended up with a nice trout at the end of Sunday as well… 
If you RB Boys haven't made one of these you are missing out. Until next time boys, looking forward to it.