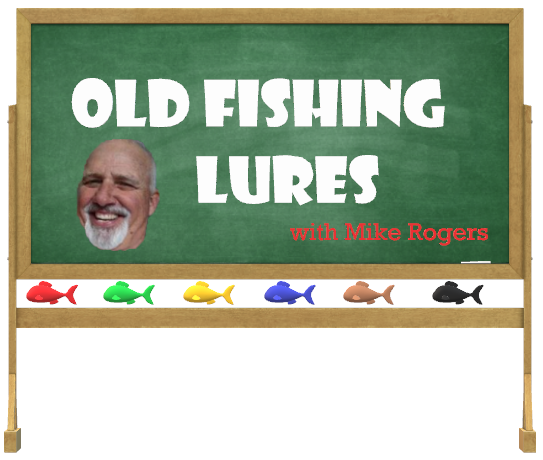 Old Bass Lures
We continue to look through old tackle boxes for anything special or unique and I have found some more. The Reel Lure, out of Springfield Missouri is another distinguished line of Missouri's "baberpole" Baits. This lure was made during the 1920's and 1930's. The Reel Lure has a weighted keel to make it lure sink. This little fellow is a descendant of the Famous Charmer Minnow and can be found in many colors.
The  next lure I found is the Shoff's Casting Mouse. Yep even back in the day they had lures that looked like Mice. This is one the larger versions of the most popular deer hair mice, that was sold throughout the 1920's, 1930's, 1940's and the 1950's. Dating back to the 1930's the Shoff's Casting Mouse featured bead eyes, a leather tail and lots of deer hair. With some weight this lure could do double duty as fly rod bat and or a casting bait for bass.
I have 4 lures to talk about and this is number 3. It's the Shoff Bass Wagtail. It's made by the same maker as the Shoff Casting Mouse, being the Shoff Tackle Co., out of Kent, Washington. Pretty fancy, as it came in a big yellow box.  This bait also dates back to the 1930's and more than likely it was designed as a salmon lure, due to its size. In moving water it would be very buoyant and would perform very well.
The last one I'm going to talk about is the Shooting Lure out of Detroit, Michigan. Yup Michigan, not just cars are made there. This lure is unique because it is a mechanical lure. It's spring loaded and was made in the mid 1940's by a machinist named Thomas G. Prentice. This was the pater model, with a metal shaft with slots in it, which a pin was inserted to hold it in the cocked position. When a fish struck the lure, the pin was dislodged, and the lure "Fired", shooting the hook into the fish's mouth. The one you see here is in patriotic Red, white and blue. It is in mint condition and sitting in a rare Shooting Lure picture box, which came with a flyer inside.
If you happen to find any of these, hit me up, we'll negotiate. What a find these would be. Don't just sit there, get out and go look for them. Remember to take a kid fishing!
RB Bass Angler
Mike Rogers